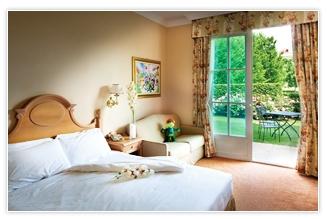 Gardaland Hotel Castelnuovo del Garda
If you are looking for an amusing place for all the family, the Gardaland Hotel is the right place for you. Adults and children will discover a magic and dream place.

The Gardaland Hotel will give you a unique experience, offering an excellent cuisine! Start your day with Prezzemolo, the unforgettable mascot, and Fatina.

The breakfast is served from 07.30 to 10, and we will offer you a delicious and energetic breakfast with a big variety of high-quality products following the international tradition and with the unique touch of our chefs.


After a day in the magic ambience of Gardaland, the evening goes on with a dinner with Prezzemolo!
The Wonder Restaurant, open also to external clientele, proposes all the evenings from 19.30 to 21.30 the Gran Buffet, a selection of appetizers, 5 different first dishes, 6 second dishes, fresh fruit and delicious dessert, for a dream dinner!
For a more exclusive and refined dinner the Wonder Restaurant a La Carte waits for you from 19.30 to 21.00 (we suggest the booking of table).
But the magic and entertainment don't finish here! All the evenings there is a full entertainment and animation program "for family" and during the weekends there are spectacles of the artists of Gardaland Theatre!

The elegant Relaxing Café situated in the splendid Hall of the Gardaland Hotel is the ideal place, where you can spend relaxing moments sipping optimal drinks and tasting good snacks. For tea lovers don't forget the Tea Time with a selection of exclusive tea with the delicious sweet proposed by Master Confisuer, while for children and also adults there is the appetising and amusing Afternoon Snack with Prezzemolo, optimal food with Prezzemolo, and before the evening of course our Happy Hour.

The hotel has a big water area for sport, perfect also for those who would like to relax under the sea and close to the water. Blue Lagoon, this is the name of the water area, is provided with spectacular elements together with a luxuriant vegetation, where there is also a big hydro massage area and a children pool.

Located inside the water area Blue Lagoon, the Pool Bar is a relaxing place good for all the family.
Far from the city chaos and surrounded by the splendid surroundings ambience of Garda Lake, you can enjoy relaxing moments just making a restful walk in the green gardens of the Gardaland Hotel.